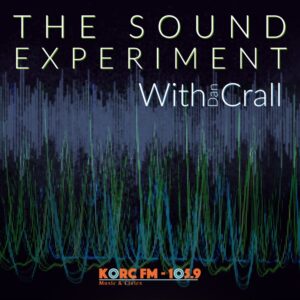 Show Times
Timezone
:
PDT
[UTC-7]
Mon:
Fri:

*

Encore Presentation
About the Show
Jump to:
The Sound Experiment is a program originally created in the early to mid 2000s, while Dan was a student at Ball State University in the Telecommunications program.  The program has aired on Indiana Public Radio (Muncie, IN), KOCF 92.7 FM (Veneta, OR), and is now heard twice a week here on KORC LPFM.  Tune in Fridays and Mondays from 8-9PM for an eclectic mix of experimental music genres and sub-genres, along with brief explanations and occasional artist interviews.  The program explores known and lesser known depths of music and sound art, with an appreciation for the experimental aesthetic. Each episode casts a wide net over the vast terrain of experimental music, and welcomes you to understand, appreciate, and enjoy an hour of music that you don't ordinarily hear on the radio.
Corvallis resident Dan Crall is a broadcast veteran, with almost 10 years experience in public radio, and over 20 years in the voice over industry.  He earned his bachelor's degree in Telecommunications – Audio Production from Ball State University.  He has a passion for audio production, creating radio programs and podcasts, exploring many genres of music, progressive and green politics, and community building.  He is the creator of "The Sound Experiment," heard Fridays and Mondays at 8 PM on KORC LPFM.  
Crall grew up in the Chicagoland area, but has lived in Corvallis since 2005.  Formerly an announcer and producer at OPB Radio (KOAC), he has been self-employed around Corvallis since KOAC's closure in 2009.  You may remember his pedicab (bicycle taxi) business, or perhaps you've seen him around town.  He is noted for his volunteer cleanup efforts and bringing attention to the city's litter issue, as well as his current landscape and maintenance service; Crall is a fixture around the Corvallis community, and is excited to be a part of KORC LPFM.